Patricia K. Gagic | PeakGallery Canadian and International Contemporary Art
patricia k. gagic
Avatar – Within and Beyond | January 22 – February 21, 2009
The Toronto Star
At the Galleries by PETER GODDARD
February 7, 2009
Patricia Gagic's evocative photo show at Peak Gallery (23 Morrow Ave. until Feb. 21) reminds us that the great thing about photography is that no one has figured it all out yet. Indeed, the intimacy and improvisatory nature of the Hamilton-based artist's work reminds us of the good things that happen when innocence leads to experimentation. There's nothing new here, but it still feels fresh. The domestic nature of the artist's vision gets quite daydreamy with the more purely abstract imagery in her "Remedy for Illusion" series.
The Globe and Mail
GALLERY GOING: VISUAL ARTS: REVIEW
Where the immense meets the intimate
GARY MICHAEL DAULT
January 31, 2009
Like many a photographer before her, Hamilton-based artist Patricia K. Gagic is clearly entranced with the idea of shooting through glass – through stained glass, in particular. This works reasonably effectively with the small colour photos from her Practical and Mystical series – woozy distortions of what seem to be vistas of her back garden, with sudden hi-focus areas, often featuring deer that have paused to gaze toward Gagic's far-off camera.
The stained-glass work appears to have given way, however, to the artist's subsequent exploration of the wonders of transparency per se, and her recourse to a kind of photo-rapture that informs the main part of her exhibition. Here, Gagic has produced a suite of six large photographs (called Remedy for Illusion) of what look like photos taken through shards of glass, through folds of tissue, through layers of transparent this and that. This results in each photo's becoming a plane of pure, formal composition, each careful arrangement coming on like some species of insubstantial crystallography. The pleasure to be derived from all this is the rather rudimentary one of comparing different densities of light. This doesn't seem a sufficient reward for all this highly self-conscious manipulation of the stuff Gagic gathers together.
My suspicion, though I don't know this for sure, is that Gagic possesses a mystic bent, and thinks of light as some sort of extrapolation of spirit. Why she calls these photographs Remedy for Illusion, by the way, is beyond me. They seem, rather, to plunge us more deeply into illusion – to a depth of sentimentality that is probably bad for your health.
January 22 – February 21, 2009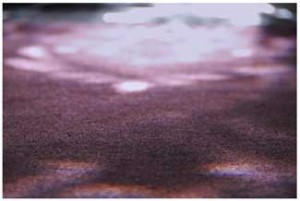 Patricia K. Gagic: "Avatar – Within and Beyond "
photo based work
Avatar: (Sanskrit) incarnation
A physical embodiment of the spiritual from series
"Reflections" size 39″ x 29″ digital print

Peak Gallery is pleased to present the photobased works of Hamilton artist, Patricia Gagic.
Ms Gagic believes that her studies of Eastern religions has guided her to a Recognition of the Spiritual as it manifests itself in ordinary everyday life. These spiritual occurrences, surprising embodiments of formal beauty, have been documented in her photographs.
"AVATAR "BEYOND AND WITHIN"
"From the Sanskrit "avatara", a traditional term for a Divine Incarnation. It literally means "One who is descended, or "crossed down" (from, and as, the Divine)". From the Knee of Listening (The Divine Ordeal Of the Avataric Incarnation of Conscious Light); by Adi Da Samraj. On November 27, 2008 Adi Da entered His Divine Mahasamadhi, the death transition of the Avatar. This exhibition is dedicated to the anchoring of the spiritually accelerated and ego-transcendence.
We are called to stand in a kind of "not knowing" about self, life, and Mystery. In that state of ignorance we allow something to enter into our consciousness that informs and activates our creative and curious mind. A spiritually active person begins to understand their journey and the choices made raise individual consciousness. A new and magical understanding begins to penetrate our way of feeling and seeing life. The "love" or Adamantine particle awakens the heart and soul. All that appears beautiful in the most simple of ways is seen, respected and recognized. There is a Divine Presence that cannot be ignored. The simplicity of being in the moment with full awareness allows all that exists to be seen in its perfect state. The images created for this exhibition arise from such a journey. They are a response to a sense of what is beautiful in a fundamental experience. Do not take for granted the beauty of light, for it is within the light that we see, feel and honor each other.
Patricia Karen Gagic
January 2009
Love Comes To Here in Time,
And Numbers All the Things
of Beauty in the House.
A Single Room Is Shown To Be
–A Unity, Within and Every Where.
No Point of View is Stood Apart.
No Word Is Made To Say,
This Space Is Empty,
or, This Place Is Full.
Only Light Itself Is Come
–A Merest Touch of Brightness
Neither Mind Nor Body Can Deny.
It Is the Heart's Explanation of Reality.
It Is Reality, Plain Spoken To the Heart
–and By the Heart Alone.
It Is the Beautiful, Itself.
Adi Da Samraj – from The World As Light, An Introduction to the Art of Adi Da Samraj ; by Mei-Ling Israel
May you receive the gift…