International Artist, Author, Entrepreneur, Humanitarian
Born in Canada with European roots, she was always motivated to succeed. With only a high school diploma and experience from three part time jobs, she moved to Toronto, Ontario and began the journey into "The Old Boys Network" of Canadian Banking. At age 25, she had climbed the corporate ladder to Senior Management.
In 1987 she became an Entrepreneur operating a successful Property Management company, which included medical buildings, a retirement home and residential properties. She was a volunteer mentor/coach for the Federal Business Development Bank's Continuing Education programs, appointed a Governor of Junior Achievement and is an active community fundraiser.
An accomplished Artist since 1976, she began her studies under Master Painter, Dragan Dragic in France in 1999. She is represented by Gallery on the Bay, in Hamilton, Peak Gallery in Toronto, Ontario, and BB International Fine Arts in Caslano, Switzerland, and continues to exhibit in North America and Europe.
In 2006 her love for Cambodia culminated in the building of a library and school for the orphans/monks in the oldest Pagoda on the sacred grounds of Angkor Wat in Siem Reap.
Patricia is a student of the Foundation for the Preservation of the Mahayana Tradition, and is an Advisor to the Lama Yeshe Ling Board and Free the Children. She continues her thirst for knowledge at the University of Toronto in Applied Mindfulness and Mindfulness without Borders. As an Honorary Advisor to the Colours of Freedom Foundation (Children's Peace Initiatives) she participated in the implementation of an Art Portfolio that supported Round Square Schools, Classroom Connections and World Council.
She is a certified Level II Feng Shui Consultant, a Reiki Master, and is certified in the 16 Guidelines for Life, Five Tibetan Yogas and Transformative Mindfulness. Patricia is disciplined in Wuji Yuan Gong and Qi Gong.
In Inspired to be Rewired Patricia shares insight into her personal motivations, detailing how the hand of fate changed her life on a multitude of occasions, always driving her forward to succeed in new ways.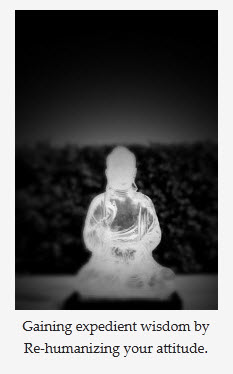 For those who take the journey to achieve the Five Radical Degrees you will create new pathways to personal awareness, re-humanize your attitude; and cultivate living with a pure heart and mind. Integrity will be your protector and compassion the common expression of your being.
Artwork/Photography by Patricia Karen Gagic
Photograph of Patricia by Yoti Telio
Cover: Mask /Artist by Laura Hollick – Model/Brian Melo